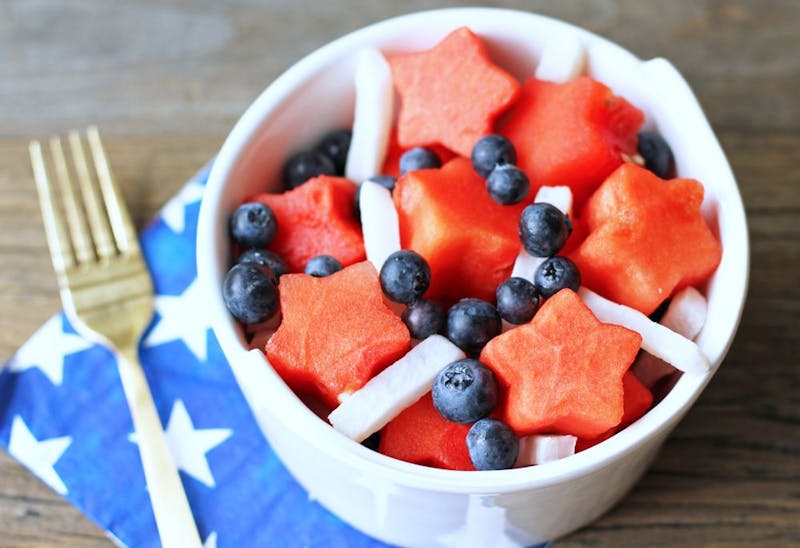 Need a healthy bariatric meal plan for the 4th of July?
With 4th of July weekend approaching, here are 5 simple ways to stick to healthy bariatric meal planning while still enjoying delicious 4th of July BBQ:
1. Opt for lean cuts of meat that are lower in fat. Chicken is also delicious cooked on the BBQ, and it has a lower fat content than beef burgers and sausages. You could cut some chicken breast fillets or skinless and boneless thighs into cubes and put them on to skewers with vegetables like zucchini, peppers, and scallions to make a healthy bariatric BBQ kebab.
2. Fish is a great alternative to meat, and is also a low fat option to cook on the BBQ. A fillet of marinated salmon (using a homemade low fat and low sugar marinade) cooked for 10 minutes is delicious and provides you with a good dose of those healthy omega 3 fats! Pre plan your portions so you don't over eat! Now you have a healthy bariatric meal plan for next week!
3. Salads are light, healthy and seemingly low calorie, but beware of the salad dressings that can be a calorie trap. Reduced fat/calorie dressings or balsamic vinegar and a squeeze of fresh lemon will prevent your calorie intake going through the roof. Another healthy bariatric meal tip: dip your salad in the dressing instead of pouring it over the top of your salad to reduce usage and calories.
4. You can't have a 4th of July BBQ meal without a dessert, right? Instead of the ice cream or cheesecake, why not choose a selection of your favorite fruit, chop them up and pop them on a skewer then warm them through on the BBQ, and serve with some low fat yogurt. Or you could just keep things simple and have a healthy bariatric size bowl of fresh fruit salad garnished with mint leaves.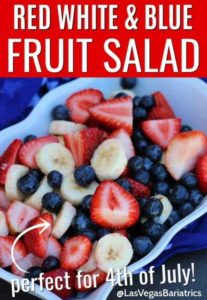 5. As always, remember to "Rethink Your Drink". Stay hydrated!! Enjoy your healthy bariatric meal this 4th of July! Share your meal with us on our social media networks. If you need more 4th of July Healthy Bariatric Recipes visit our 4th of July Bariatric Bites Pinterest Board.
If you need more information about bariatric surgery or bariatric meal planning visit our contact page and one of our weight loss professionals will reach out to assist you.
From all of us at Las Vegas Bariatrics have a happy, healthy and safe 4th of July!