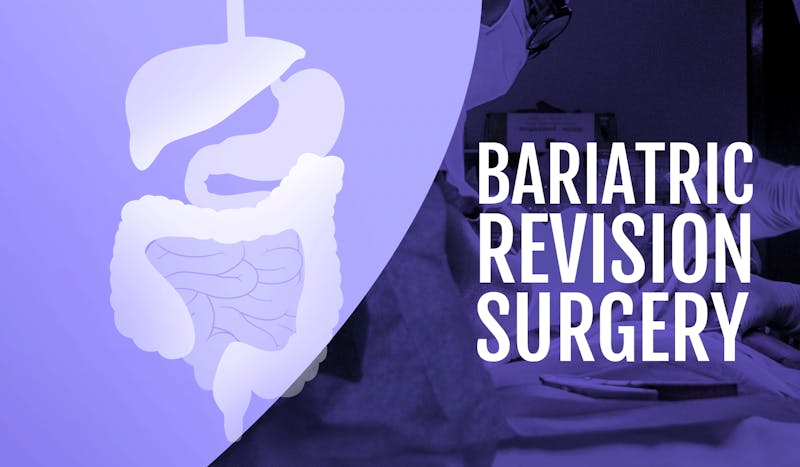 Considering Revisional Bariatric Surgery for Weight Loss?
A small percentage of people who have undergone any type of weight loss surgery will relapse in a few years. A lot of it will depend on the procedure that was performed to address obesity. When this happens 'Revisional Bariatric Surgery' also known as a 'Gastric Bypass Revision' becomes a necessity to get help to lose excess weight again or to treat symptoms that might have arisen due to the weight gain. Before you decide if you should opt for Revisional Bariatric Surgery, there are a few things that you should know about.
What is Revisional Bariatric Surgery?
Revisional Bariatric Surgery or Revision Surgery is a procedure that is performed to reverse or repair a previously performed weight loss surgery. It is needed for patients who have had no success with weight loss or have regained more weight after having weight loss surgery. In addition, it might also be required for those who have experienced some complications such as pouch enlargement, ulcers, or loosening of the lap band after the weight loss surgery.
What are the Common Reasons People Might Need
Revisional Bariatric Surgery?
There are a few common reasons why people might need Revisional Bariatric Surgery. But, remember that just because you experience a couple of these symptoms doesn't mean that you need revision surgery. It is important to discuss it with your doctor to know if you will be a good candidate for the procedure. Here is the list of common symptoms –
Little or no weight loss
Regaining lost weight
Stomach ulcers
Frequent vomiting
Abdominal pain
Having difficulty swallowing
Bile or gastrointestinal reflux
Band erosion or band slippage
Gastro-gastric fistula
Hernias
Other bowel obstruction
Gastric enlargement
What Are Things to Consider Before Revisional Bariatric Surgery?
Before you consider a Revisional bariatric surgery, you need to speak to your bariatric surgeon and know the complication rate. You will have to undergo several diagnostic tests to determine if you are a good fit. Apart from that, you will also be required to undergo psychological and nutritional evaluation. You might even be asked to lose some amount of weight to check your commitment towards the procedure.
What Results Can I Expect From Revisional Bariatric Surgery?
The results of Revisional Bariatric surgery by a professional and experienced surgeon are quite good. One can expect the complications to be corrected and also the associated problems to be resolved entirely. But, one should be ready to experience a little less dramatic result with Revisional bariatric surgery than the primary one. The main reason is that those who have failed to lose weight with surgery find it challenging to lose weight in general.
Are There Risks Associated With
Revisional Bariatric Surgery?
Till a few decades back, Revisional bariatric surgeries have always been risky. But, over the years, new procedures and technology have allowed surgeons to perform the surgeries without any complications. But, it is crucial that the Revisional bariatric surgery should only be performed by an experienced surgeon. According to many studies, the result of bariatric surgeries is directly linked with the experience of the surgeon.
What is the Recovery Time for Revisional Bariatric Surgery?
The recovery time for the revision surgery is almost the same as that of the first surgery, but you might need to spend a couple of days more in the hospital. This happens when the revision surgery involves a much more complicated procedure than the original one. Once you are released from the hospital, the recovery time is almost the same as that of the initial surgery.
If you or someone you know are interested in getting weight loss surgery and have a BMI of less than 45 you may qualify for our weight loss surgery sale! We are currently running our lowest sale of the year to all qualified patients in the United States. Visit our contact page to schedule an appointment and get started on your weight loss journey with Las Vegas Bariatrics.
Our office takes Covid-19 seriously and offers telemedicine to help encourage safe social distancing. If you have tested positive for Covid you are still eligible for weight loss surgery but may be required to take extra precautions ordered by our physicians. Please notify us if you are experiencing any symptoms of illness so that we can properly advise you on what to do.
If you would like to join our bariatric support group to get to know more about our bariatric community visit us on facebook.