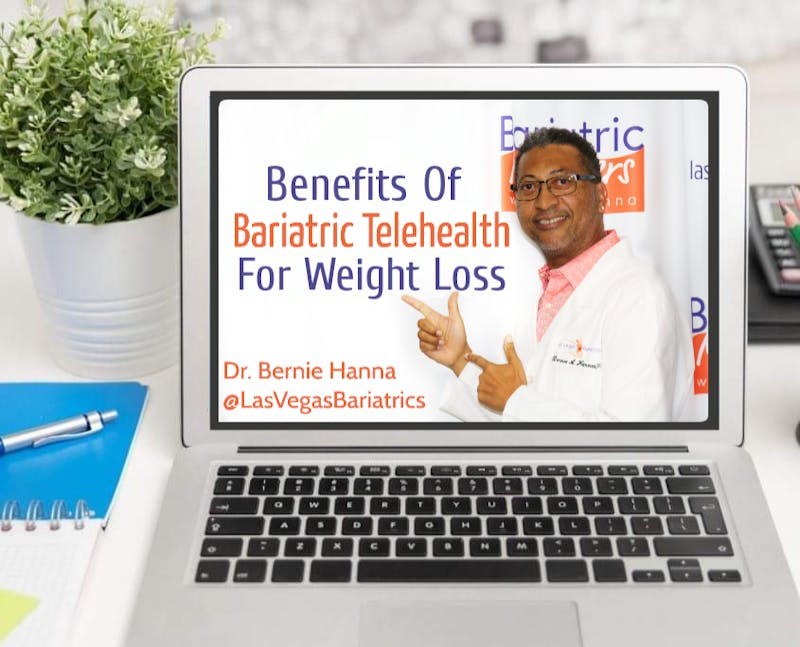 Why You Should Try Bariatric Telehealth For Weight Loss
As we are currently facing challenging times most people may lose sight of weight loss goals and regress on making health conscious decisions due to stress. Some people may be seeking the direction or advice of a certified weight loss professional but feel as if scheduling an appointment maybe be way off into the distant future. With the benefits of bariatric telehealth all hope is not lost for those seeking weight loss treatment or advice.
What's the difference between Telehealth and Telemedicine? While we offer both at Las Vegas Bariatrics Telehealth is different from telemedicine in that it refers to a broader scope of remote health care services than telemedicine. Telemedicine refers specifically to remote clinical services, while telehealth can refer to remote non-clinical services to help serve all weight loss patient needs.
At Las Vegas Bariatrics we are committed to your weight loss goals and want to keep you on track by making the right decisions for your current and future health. Dr Bernie Hanna and his team of certified weight loss processionals are dedicated to providing you weight loss options during this time to encourage better health not only in Las Vegas, Nevada but globally. No matter what your medical history may look like, you too can become a better healthier version of yourself. The YOU that you always dreamed of.
If you are a current bariatric patient or considering bariatric surgery you can find that with the new breakthrough of telehealth you can still schedule an appointment with our Las Vegas Bariatrics office. Telehealth comes with many benefits that are hard to resist and make losing weight a lot easier than ever before.
5 Benefits Of Bariatric Telehealth
Convenient – Its as simple as schedule an appointment, do your telehealth call and follow the instructions given by our certified weight loss professionals/ That's it! Your well on your way meeting your weight loss goals! Secure and Private – It is our top priority to keep your information private and secure by providing HIPAA compliant options to communicate with you about how you can stay on track and lose weight before and after surgery. Simple – You don't need much to schedule a bariatric telehealth appointment. You can use your private computer or mobile phone with a high-speed internet connection. No Commute – Save gas on travel and avoid traffic by using bariatric telehealth from the privacy of your own home. More Appointments Available – Now that we offer bariatric telehealth we are able to provide our patients non standard hours for appointments. In the case that you are not able to schedule an appointment during regular business hours due to work or other priorities we can offer you other time slots including weekends.
We are excited to offer you this great opportunity to receive bariatric telehealth during this time of practicing social distancing. We hope that you take advantage of this great opportunity to lose weight and improve your health sooner rather than later. To schedule a telehealth appointment you can visit our telehealth contact page and someone from out team will reach out and schedule a telehealth appointment for you. From all of us at Las Vega Bariatrics stay healthy and stay safe!