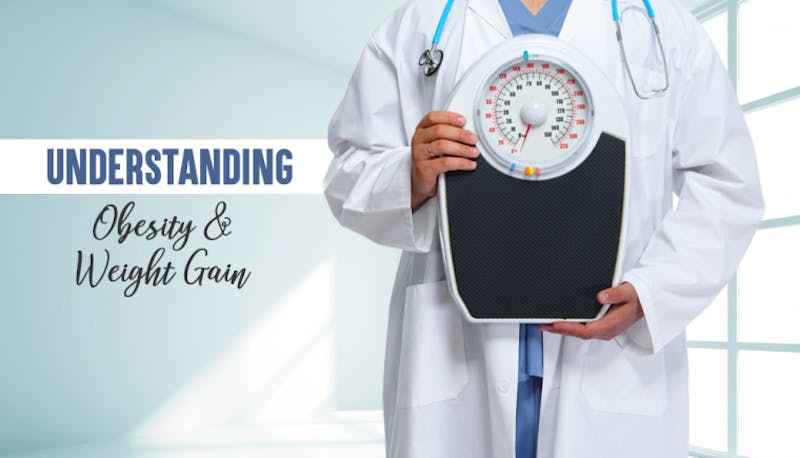 To lose weight regain after weight loss surgery (WLS), one must review weight gain as a whole. It is important to understand obesity and weight gain. The surgical management of obesity has become more popular to combat this worldwide epidemic.
Obesity and Weight Gain
According to the Centers for Disease Control and Prevention, about two-thirds of the American population falls into an overweight or obese weight classification. Having a higher than normal Body Mass Index (BMI) can have a serious impact on our lives and especially our health.
The most obvious issue would be excessive weight gain and accumulation of body fat percentage. As weight gain is a progressive situation, we have to look further into what factors affect weight. Unfortunately, some lifestyles, medications, food/beverages, disease(s), and predispositions, whether genetic or hormonal, can cause weight gain.
With a more accurate diagnosis and evaluation of the issues surrounding weight gain and regain per individual, we can then tailor a good treatment plan and better manage this complication after WLS.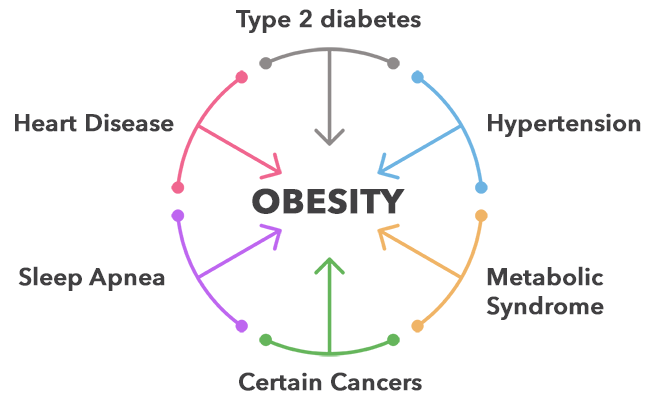 We know that obesity is associated with an increased incidence in several serious health conditions, including Type 2 diabetes, heart disease, hypertension, obstructive sleep apnea, certain cancers, and metabolic syndrome. Weight loss surgery has shown to be effective in eliminating some of these health conditions.
In general, when we look at success after weight loss surgery, it is defined as 50% or more excess weight loss and maintaining it for at least five years.
Typically, when an individual is considering weight loss, the options out there may include a healthy lifestyle with exercise several times each week, a healthy diet plan, weight loss medications like appetite suppressants, and behavioral modification, to name a few. These medical weight loss measures, most of the time, are fought with poor results and weight being regained plus more weight in some cases.
In the medical community there is a growing realization and consensus that weight-loss surgery is one of the most successful long-term solutions for sustainable weight loss in morbidly obese individuals.
Weight gain, especially after weight loss surgery, can be daunting and seem like a hurdle to overcome. However, there are options available. Putting a halt to weight gain and even maintaining regimens to help lose weight can be a possibility with the right medical support team. Practicing a healthy lifestyle and a positive mindset after WLS can also help with the weight loss process.
On the other hand, not adhering to recommended medical follow-up care, diet progression, and compliance, following a daily bariatric vitamin regimen and/or overall healthy lifestyle habits even after surgical alteration can lead to weight gain. Medical management and adapting to a healthier lifestyle should always be focused on when developing a care plan for an individual and especially the WLS population.
When comparing procedures, we know that some surgical procedures have a higher long-term success rate than other procedures. Procedures that tend to alter the anatomy and physiology of an individual such as Gastric Sleeve, Gastric Bypass, and Duodenal Switch procedures seem to have higher success rates with long-term weight loss as opposed to the lesser procedures such as a Gastric Balloon or Lap-Band procedures.
However, more invasive procedures do come with higher risks of nutritional issues and maybe even repeat surgical procedures in the future. So, it is very important when selecting the procedure that is right for the individual based on their lifestyle and behavior.
When considering a bariatric center and surgeon, find out if they have a comprehensive program. The comprehensive program should include a coordinator, nutrition counseling, exercise guidance, support groups, psychological evaluation, and routine follow-up care. Having all of these resources in the program are key elements to improve successful weight loss.
To read more on obesity and weight gain and visit the original article visit ObesityHelp.com.
If you are experiencing obesity and weight gain and are interested in weight loss surgery and would like more information visit our contact page and someone from our team of weight loss professionals will contact you.