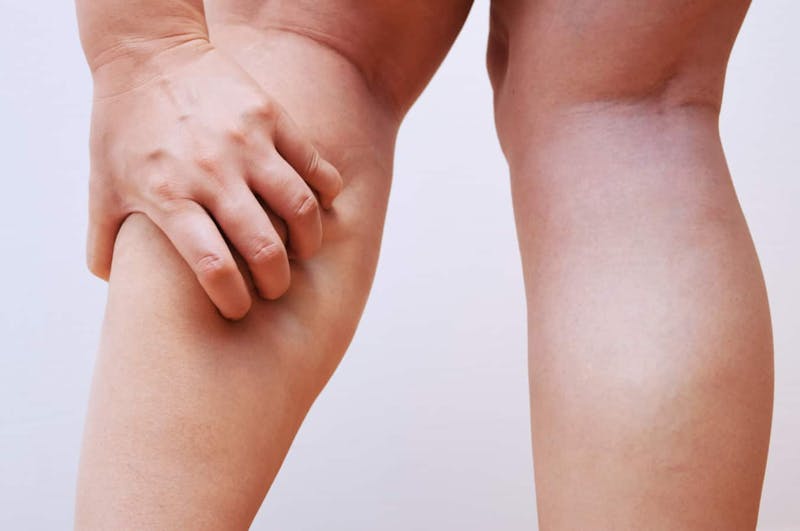 Often weight loss surgery patients will call in and ask, What can I take for leg cramping after Gastric Bypass Surgery?"
Online informational sites can be daunting and flooded with mis-information that gastric sleeve patients may feel overwhelmed or cautious to follow. While it is important to always consult your bariatric surgeon or nutritionist when facing any complications after gastric bypass surgery there are many things you can take for leg cramping, calf cramping, even eye twitches after weight loss surgery.
This uncomfortable issue is most likely due to an imbalance of your electrolytes aka your minerals. Leg cramps can typically last from a few seconds to up to 24 hours.
Causes for leg cramping.
Sometimes the leg cramps are caused by an underlying health condition, situation or activity such as.
Addison's disease Alcohol abuse Cirrhosis Diarrhea Flatfeet Gastric bypass surgery Hypothyroidism, or an under-active thyroid Chronic kidney failure Hypolalemia hemodialysis Type 2 diabetes Cancer treatment Lead poisoning Sarcoidosis, a disease in which small growths or lumps produce inflammation or swelling of the tissues in any part of the body Muscle fatigue Vascular disease and venous insufficiency motor neuron problems Oral birth control Parkinson's disease Peripheral artery disease (PAD) Pregnancy, especially in the later stages Use of some medications, including intravenous iron sucrose, conjugated estrogens, naproxen, raloxifene, and teriparatide
Ways to treat leg cramping after gastric surgery:
Increase your magnesium supplementation. Magnesium rich foods such as Avocados, Almonds and Legumes are a wonderful source of magnesium and potassium. Adding these food groups to your daily food intake is essential to assist in balancing your bodies minerals to aid in muscle cramping after gastric bypass surgery.
Hydration is key! Most leg cramps after gastric bypass surgery can be due to dehydration. Making sure your daily water intake is up to par is a great way to reduce any leg cramping after gastric surgery.
I hope you found this information helpful for your weight loss surgery recovery. If you have any additional questions, please contact us on our Las Vegas Bariatrics contact page.