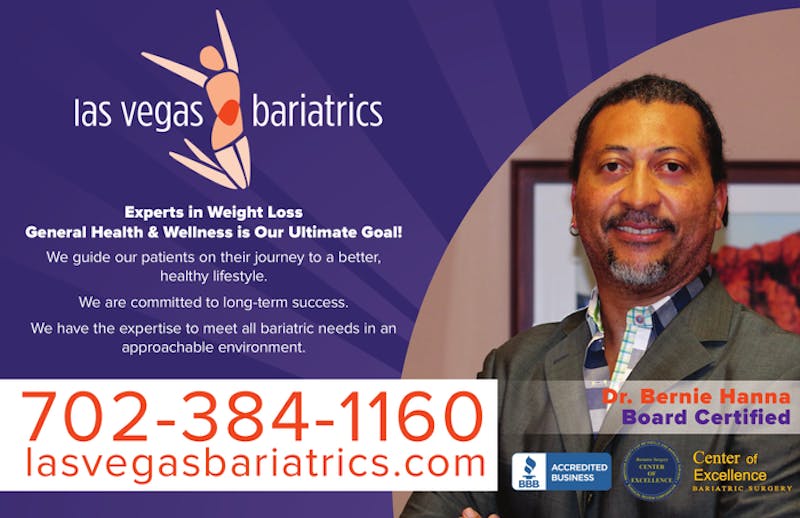 Dr. Bernie Hanna, M.D. and our team at Las Vegas Bariatrics are proud and honored to announce that we were recently presented as a Better Business Bureau (BBB) Industry Leader. Since 2003, Las Vegas Bariatrics has worked tirelessly to help patients achieve a healthier life through medical and surgical weight loss along with extensive diet and exercise support. Our commitment to excellence and our dedication to providing the highest level of medical treatment and customer service have earned us an A+ rating through the BBB.
About The Better Business Bureau The Better Business Bureau aims to advance marketplace trust by setting standards and then encouraging and supporting those that with best practices. Through BBB ratings and awards, consumers are able to identify businesses that function with integrity and performance. According to the BBB mission, integrity of a recognized business includes demonstration of respect, ethics and intent; performance reflects the business's track record of delivering results in accordance to BBB standards along a proven commitment to address customer concerns in a timely, satisfactory manner. BBB accreditation ensures that a business can be trusted as they have met BBB requirements and have proven to run honorable enterprises. As an Industry Leader, BBB accredited businesses are recognized as the best in their industry, showing trustworthiness and a commitment to operated to a higher standard of business practice. Joining the elite group of BBB Industry Leaders further allows businesses to learn and interact with other great businesses and consequently provider an even higher quality of service.
About Las Vegas Bariatrics At Las Vegas Bariatrics, we believe in providing an approachable environment along with expertise meet the bariatric needs of our patients and to successfully equip them for a healthy lifestyle. For over 14 years, Dr. Hanna has provided superior bariatric surgery including Gastric Sleeve, Gastric Bypass, Gastric Band and Revision surgery. Distinction in service has also awarded us the honor of being named a Bariatric Center of Excellence by the American Society for Bariatric Surgery.
We offer comprehensive bariatric surgery and the compassionate support needed to ensure that patients find success in their weight loss journey. Dr. Hanna and our entire staff of friendly, knowledgeable professionals are focused on quality delivering a higher standard of service for such an important part of life.
Obesity numbers are reaching epidemic proportions, making the mission of health and wellness even more important. For countless people, attempting diet and exercise on their own has not been successful making it increasingly difficult to lose weight. Dr. Hanna believes education and support are key components, which is what led him to establishing Las Vegas Bariatrics. His aim is to redefine surgical weight loss by emphasizing nutrition, fitness and group support to provide patients with a comprehensive program that will assist patients both before and after bariatric surgery. Bariatric surgery provides weight loss solutions for hundreds of qualifying patients, helping them to experience results and the transformation they desire and need. According to Dr. Hanna, "choosing a healthy lifestyle and fighting obesity is the greatest thing you can do for yourself". For more information about the service offered at BBB Industry Leader, Las Vegas Bariatrics, call (702) 384-1160 and a member of our friendly staff will gladly help you get started on the path to a healthier life.
Las Vegas Bariatrics 7220 South Cimarron Road Suite 100, Las Vegas NV 89113 (702) 384-1160