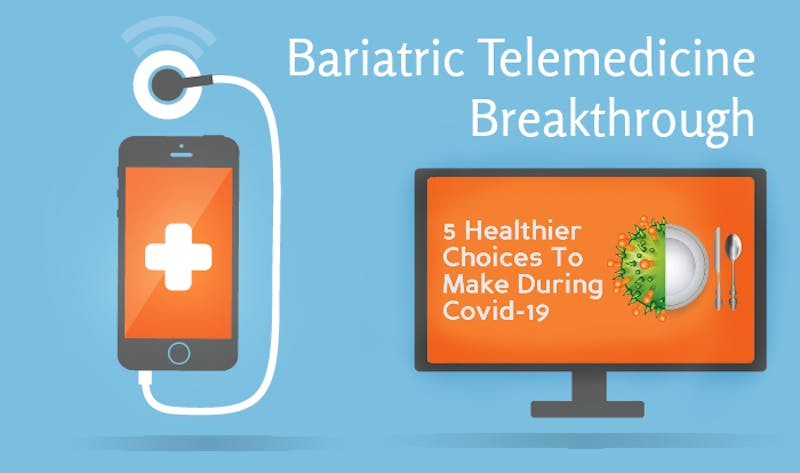 Covid-19 Makes Way For Bariatric Telemedicine Breakthrough
Were facing some serious times. The Corona Virus has really changed our world and at Las Vegas Bariatrics we are complying with the recommendations made by the CDC and American College of Surgeons. We have closed our office to client traffic and opened the doors to bariatric telemedicine.
We are not seeing patients at the office but we are still continuing to do bariatric telemedicine so that we can be engaged with our clients and continue the weight loss process.
Our bariatric clients have been in the process 3-5 months and we want to continue your journey to weight loss. We have also had to cancel elective surgeries based on recommendations from the American College of Surgeons. That does not mean that your weight loss surgery will not continue.
Our office will be reaching out to our patients and reschedule surgeries as needed. They will be pushed back till mid April in order to continue this process. Know that we are here for you. We know there are a lot of questions and concerns but the key is to stay positive and focused on your weight loss journey.
We are committed more now than ever to your health and wellness during this challenging time. It is currently recommended to practice social distancing and we while doing so it is important to stay focused on nutrition for your physical and mental health.
Making healthier choices gives you a healthier attitude and healthier weight control so you can feel and look great. The types of healthy choices you can follow during self distancing are:
1. Maintain a healthier diet and avoid stress eating or overeating. Right now is not the time to over eat and put your body and mind under more stress. Eating healthier foods can help alleviate your stress and help you manage your body weight so you can be proud of yourself, instead of feeling guilty and depressed.
2. Get regular exercise. You can go outside for a walk or do some physical activities around the house such as yoga, a small workout routine in your living room, or even doing some spring cleaning can get your body moving and help keep your immune system strong.
3. Take your vitamins! Vitamins are an essential part of maintaining a healthy lifestyle while focusing on weight loss. Vitamins have multiple benefits such as boosting your metabolism and immunity, signaling your cells to burn more fat or balancing out your body to improve your weight loss experience.
4. Rest and stay calm. Resting helps your body recover from your workouts and keeps you healthy. Sleep deprivation is hard on your body because it causes the body to over produce the hunger causing hormones leptin and ghrelin. Lack of sleep will cause you to gain more weight and feel less energized or even depressed.
5. Focus on goals and education. Educating yourself and making a clear plan to meet your weight loss goals will help you reach them faster than just having an idea of "some day". During this time while social distancing you can still depend of things like bariatric telemedicine to help you reach your weight loss goals.
You can make an appointment to start your weight loss journey so you can start working on all the things that come before the actual weight loss surgery. This can keep you busy and give you something to look forward to.
It is important to stay positive and know that you are not alone. We are all in this together and we will get through these challenging times. If you need help meeting your weight loss goals Las Vegas Bariatrics would love to help. Your summer body is right around corner so don't count spring weight loss out.
To get started on your weight loss journey visit our contact page and leave us a message. Our team of certified weight loss professionals at Las Vegas Bariatrics has helped people just like you lose weight. Your dream body is closer than you think and you don't have to wait for Corona Virus to end to start working on it.