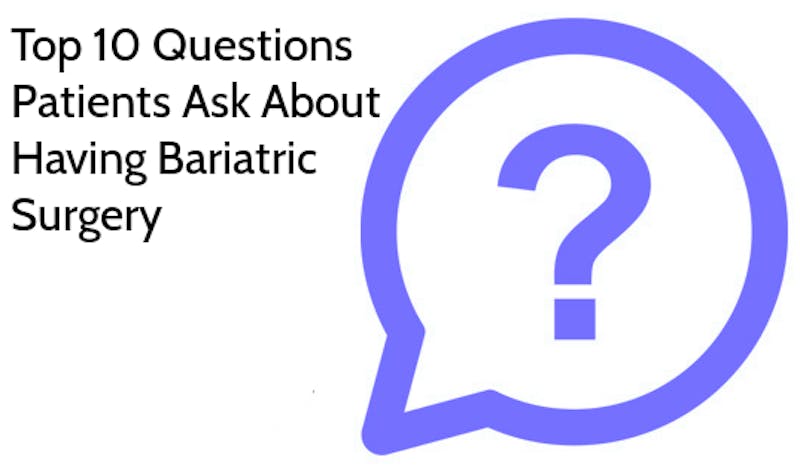 Are you considering weight loss surgery? Read these 10 commonly asked questions by bariatric patients about weight loss surgery.
Q: What should I eat before weight loss surgery? A: Depending on your BMI, Your doctor will either put you on a one or two week diet prior to surgery. You will replace two meals with a protein shake and have one healthy meal that consists of protein and a non-starchy vegetable. This helps reduce the risk of complications and helps your liver shrink so that it is easier for the surgeon to do his work since the liver lies on top of your stomach.
In the weeks leading up to your bariatric surgery it would be in your best interest to make sure you're consuming enough protein (a minimum of 60-80 grams for women and 80-100 grams for men). Protein will help with preserving lean body mass and help you heal faster after surgery. In addition, it helps with satiety. Practice listening to your hunger/fullness cues; this will help you in the long run to ensure you will be able to maintain the weight you lose. We have habits that are created over our lives and it will take time to establish new habits, so why not start now?
Q: What vitamins do I have to take after bariatric surgery, and how long will I need to take vitamins? A: It is crucial that all bariatric patients take vitamins for the rest of their lives due to decreased absorption of certain vitamins. A bariatric specific complete multivitamin will ensure you're getting what you need. Depending on your lab work you may need to supplement with additional vitamins/minerals such as vitamin D, iron, and calcium.
Q: What foods can I eat after bariatric surgery? A: Immediately, post surgery you will be on a very specific diet that will progress in 4 stages. It is important to follow the guidelines provided by your doctor. You will start with a completely liquid diet to a semi –liquid diet, to puree, and finally soft foods. You will gradually start eating more textured, solid foods over the period of a year. The two priorities after surgery will be to ensure you are consuming enough protein and to stay hydrated.
Q: When can I eat "normal" again after surgery? A: After about 8 to 12 months you will be able to eat all foods and consume liquids with the exception of alcohol. Alcohol is allowed, but not recommended until 12 months after surgery. Caffeine can be reintroduced after 6 months. The speed at which you progress through the 4 stages is an individualized process and should be monitored by your Bariatric Doctor and Dietitian.
Q: Are there any restricted foods following weight loss surgery? A: Certain foods are restricted during each phase in order to allow your stomach to fully heal, decrease risk of nausea and vomiting as well as potential issues with your gastrointestinal system. Introducing new foods should be done slowly and one at a time so that we can properly asses if something goes wrong. Foods that are hard on your digestive system, may take longer for you to tolerate. These include: popcorn, nuts, seeds, dense protein bars, tough meats, granola, bread products, certain dairy products, as well as fried and spicy food.
Q: How much protein do I really need after weight loss surgery? A: A blanket statement would be that most people require 60 to 100 grams of protein per day. Your needs may differ depending on your activity level and which phase you are in post-op, or how much lean muscle mass you have. The USDA recommends that up to 35% of your caloric intake comes from protein. This can be adjusted depending on your weight loss goals. A good way to ensure you're getting enough protein is to consume protein with every meal and snack.
Q: What happens if I don't meet the recommended protein amounts? A: By ensuring you're consuming enough protein you can prevent future issues such as hair loss and loss of muscle. When bariatric surgery patients lose weight at a rapid pace, it is important that we preserve muscle mass. Loss of muscle mass can result in fatigue, weakness, and slowing of your metabolism. When your body is healing from weight loss surgery your body has higher protein needs.
Q: What should my fluid intake be after weight loss surgery? A: Your fluid needs do not change after surgery. A good rule of thumb is always consume 64 oz of water per day. This will be higher if you're sweating a lot, or vomiting, and/or have diarrhea. Carrying a water bottle with you can help remind yourself to drink more fluids throughout the day even when you're not thirsty.
After surgery, liquids should not be consumed together with food since you're stomach is smaller. Planning your day to achieve the required amount of fluids can help since you can only consume a maximum of 4 oz at a time. One of the most common reasons for hospital re-admissions post bariatric surgery is dehydration.
Q: What about caffeine? A: The answer to this question will differ depending on which bariatric doctor you ask. Dr. Hanna's recommendation is to not reintroduce caffeine until 6 months after weight loss surgery. You should follow the guidelines of your bariatric surgeon. Caffeine can irritate the stomach lining especially while it's healing. Most beverages containing caffeine, contain no nutrients.
Q: At what point can I start to exercise post-surgery? A: Most bariatric doctors agree you should start walking a couple hours after weight loss surgery. During surgery gas is pumped into you and movement helps it escape. Not moving because you're uncomfortable will not do you any favors, if anything it can cause further discomfort. It is also important for weight loss because it helps create a caloric deficit. Talk to your bariatric doctor before choosing to increase the intensity of your movement or decide to lift weights.
If you or someone you know is interested in weight loss surgery or has a bariatric surgery question that is not listed above please contact our office so that one of our weight loss professionals may schedule a weight loss consultation.